So i've finished two books since summer officially started. I'm on an old kick and a new one. I literally just finished B Is for Beer by my main man Tom Robbins. Now if it's possible to place someone on your list of favorite authors after reading just one of his books than Tom Robbins is that man on that list (oh, Jonathan Safran Foer is there too). To be fair, as of today i've now read two books by Robbins. A friend hipped me to Jitterbug Perfume a few years back and i ate it up with a spoon. I used to listen to Book of Silk while reading it in my parents living room and used to sit and eat at the Sunflower Cafe while getting ready to finish it.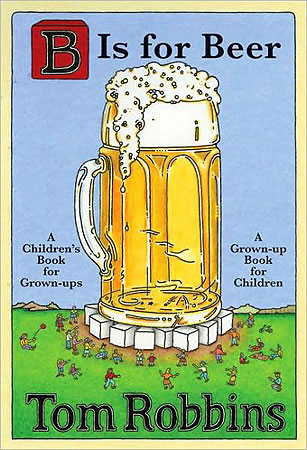 Ok, so i'm straying already. B is For Beer was a good time. There's some reading between the lines of this simply put "Children's Book for Grown-ups" that poke certain fun at certain folks (or organizations) and there are certain lessons to be heeded and not forgotten by those of us with a tasting schedule that's, well, frequent. At the heart of things though, there's talk of the beauty, of the fun, of the excitement, of The Mystery that make this a good beer book. It's funny, when you sit back with this book and think about the style it's written in (children's tale, simplified explanations) you can actually see how important it is for the uneducated to be taught.




I'm also completely jazzed up on Animal, Vegetable, Miracle by Barbara Kingsolver, which has been mentioned here a few times already. It was a fun and interesting read that has made me seriously reasses my eating and spending habits and was the camel's back breaker for me in some ways. Check it out.

From there I'm moving on to Michael Pollan's The Omnivore's Dilemma, you can see the theme growing and building. The time is right.




I also found a great cookbook that i am very excited about. Perla Meyers' The Seasonal Kitchen breaks down a seasonal approach to the year, cooking what's fresh and available and makes planning out meals based on what your local farmers can give you a very do-able task. In the Fall section there are soups, root veggies, etc while there is a whole section discussing summer vegetables.

I grabbed most of the books mentioned here at Wolfgang Books in Phoenixville. Mr. Jason really knows his stuff and is an all around great dude. Stopping in to Wolfgang isn't something i do nearly enough, but i always leave impressed. Climb the stairs people.

I have Randy Mosher's Tasting Beer on the list for this summer as well. In addition to Homocide by David Simon. Anyhow, i should put a closing thought of some sort here to wrap this all up neatly, but i am too tired and just wanna hit the way.